\ENGLISH\
Wild Romanticism: Frabin releases 2nd album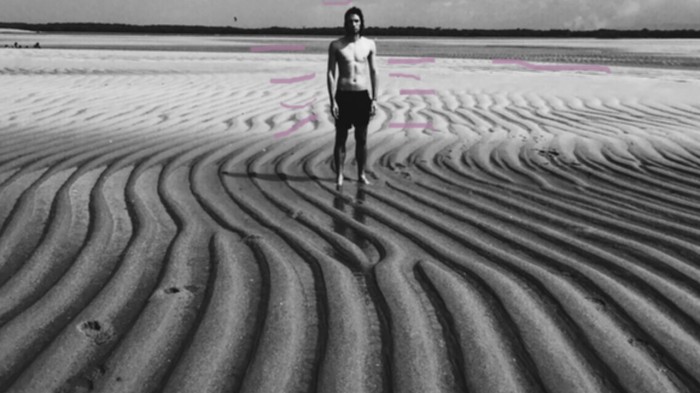 Recorded during second half of 2017 at his home studio, "Tropical Blasé" is Frabin's 2nd official album. Its 9 songs float around 80′s synth-pop whilst Victor Fabri, the does-it-all persona behind Frabin, cites Unknown Mortal Orchestra, Neon Indian and Michael Jackson as major influences for his new album.
The title "Tropical Blasé" blossomed on a trip Victor made in Northeastern Brazil by car in 2015. "I was in the middle of several tropical paradises between the North and Northeast of Brazil where there are all these natural landscapes with almost no interference of men… Those are my favourite places. The album cover is on a beach in Piauí. Also, I live on an island, Florianópolis, close to other beautiful natural places, and I make this darker dream pop. So I thought it was the right title to this album".
To mix the album, Victor decided to use parts of Rob Grant's (Tame Impala, Miley Cyrus, Death Cab For Cutie, Pond) mastering. "First mix was made by myself and Rafael Pfleger at the Pimenta do Reino Studios in Florianopolis. I sent the master back to Rob in Australia, but I didn't like the result for all the tracks. My friend Eduardo Possa mastered a mix of the two 2 versions and in the end, it was a 40/60% of each and sounding as I wanted < / em> ".
Now Frabin is again facing the harshness of engaging audiences in Brazil. "It's so hard to make some profit from the music scene in Brazil today, I'd have to play and work for many years to be self-sufficient. But I like what I do so I'll keep on trying to make people listen my songs. So far, the feedback is very good, I try to be my biggest critic at first, I do not know how sincere people are being but since 2014, the people who bump into me always enjoy the sound".
Spotify : Frabin profile
& nbsp;