\ENGLISH\
Spotlight on My Magical Glowing Lens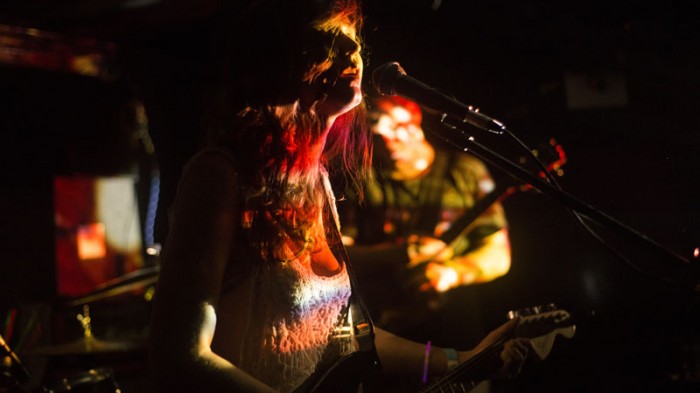 My Magical Glowing Lens started as a one-girl-band. In the end of 2013, Gabriela Deptulski, recorded her eponymous EP with 4 songs.  It's opening track "Dreaming Pool", with distorted drum & bass, full of guitar and vocal layers, reminds us of a 60′s psychodelic combo. Before any more words, watch this:
The other three songs go on the same flow: "Summer Nowhere" starts on a ultra-distorted guitar drivell as the drums kicks in changing radically its melody to clean and mellow. Home recording charms are audible in "I Will Never Find" as Gabriela whispers and laughs.  "All Right" is a cross of Tame Impala and Sonic Youth circa "Experimental Jet Set".
With so many good references and impressive home recording, Gabriela's My Magical Glowing Lens gets brazilian music press attentions: "shoegaze with dream pop lightness, a space chill-out" wrote Trabalho Sujo; Brazil's biggest internet portal wrote: "astonishing psychodelia that, if listened with close eyes can slow your heart beats".
Closing 2014, MMGL's recorded "Windy Streets" with New Yorkers The Post Nobles. At the same time, Gabriela recruited Pedro Moscardi to play bass and keyboard; Raími Leone  to guitar and Rafael Borges to drums. Now she's on the road playing her first full band gigs around Brazil. Her first EP is out on cassete tape through Honeybomb Records, while the CD version includes "Windy Streets".
You can listen and buy "Windy Streets" here.
You can listen and download My Magical Glowing Lens first EP with four songs here.