Spotlight on Churrus
Churrus got together in 2004 in Belo Horizonte, Brazil, when Tulio Panzera, Bruno Orsini and Luiz Flavio Neves met. Later, Matheus Lopes (Guitar), Branco (Bass), Fabrício (Drums) and Júlia (Keyboards) joined the band for their first live performance. The line-up continued to evolve when, in 2005, Panzera moved to England. Fred Dutton, Richard Jones and Simon Watkins all came on board.
Back in Brazil in the middle of 2006, Panzera brought friends Matheus Lopes, Bruno Martinho, Peppo and Bruno Orsini back into the fold to record the first Churrus' album, The Greatest Day. The American band Pernice Brothers wrote some special comments about the record.
In 2010, Túlio Panzera, Matheus Lopes, Bruno Martinho, Paulo Souza e Luis Couto gathered to record the second album, entitled Monotone. The album is more dense and live sounding.  Songs were written by all band members, and references still point to indie rock, lo-fi and shoegaze. Indie Pages blog wrote about it: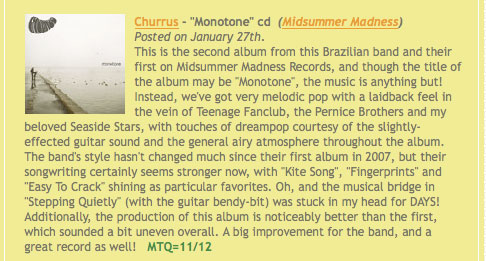 In 2013, Churrus put out their 3rd album, entitled Transcontinental, a direct reference to Panzera's constant travels between South America and Europe. The record has 15 tracks, sounding more confident than before, with riffs and melodies tending to shoegazer and power pop, now a declared preference. Two original guitarists, Panzera and Matheus, now have company: Luis Couto adds a 3rd guitar to Churrus songs.
Listen to all Churrus records here.
Buy digital versions of all their albuns here.
Buy Transcontinental CD version, here. Or here.
Buy Monotone CD version, here. Or here.
Or else:
Deezer: http://www.deezer.com/album/6942050
iTunes: http://itunes.apple.com/us/album/id687734567
Rdio: http://rd.io/x/Qj53cKo/
Spotify: http://open.spotify.com/album/26SnPY7BvgXtT4lgBx9Eak