Macintushie's new single mixes English and French lyrics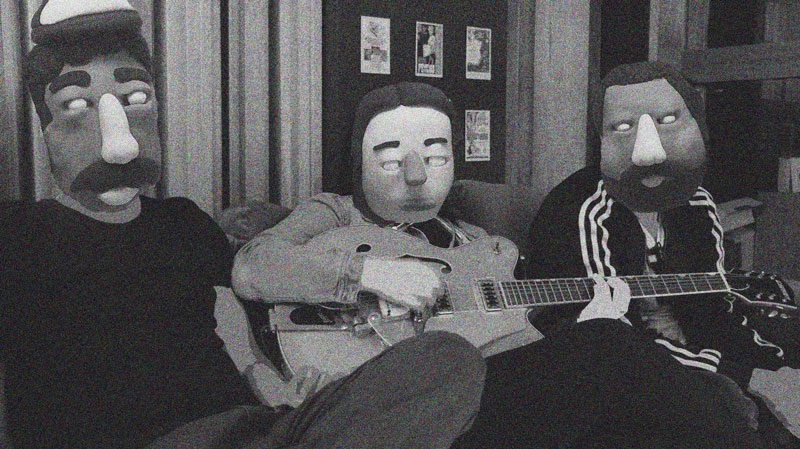 Macintushie isn't a word either in Portuguese or English but this Brazilian trio decided to name their project with an abstract word to "denote the unpretentious concept of the songs". According to Pedro Baapz, "as an inside joke, Tushie means ass. We thought it was liberating".
So liberating that in April 2019, Baapz (synths, keys), Ruan Lustosa (bass) and Isabel Oliveira (lyrics, vocals) released "Stillwitchu", a 6-song EP produced out of the blue. In September 2018, Isabel was at Baapz's studio recording vocals for another project when he found, in the depths of his computer's HD, a weird instrumental version, recorded on Guitar Pro and converted to 8-bit called "Sad". Within 15 minutes, Isabel wrote the lyrics, "Sad" ended up becoming "Still With Me" and from that, three songs were written. Later, Ruan was called in to add guitars and in less than two weeks, Pedro, Isabel and Ruan had a new band.
"A new band" because these three are busy: Baapz plays solo as BAAPZ,  all of them participate in Rodrigo Lopes' Alles Club, and share collaborations in Isabel's Flopsy Franny. So Macintushie is their uncompromised playground.
Two years after the first EP, Pedro comes up with a new song: an instrumental track recorded at a quarantine workshop that was sent to Isabel to write the lyrics. Her vocals were recorded using a mobile phone, inside a wardrobe. Baapz then mixed it using a Logic Pro X to simulate DJ effects. "This new track intentionally has several glitches and deteriorates in the end" explains Baapz. "And Ruan's guitars have no distortion on, just reverb. We wanted something cuddly like Cardigans".
"Vicky Avait Raison" is being released on digital platforms on Friday, 13th of August, via midsummer madness and Mixirica Records (Baapz' label). It may not sound like Cardigans to some listeners, who may recall the EP's influences like Beach House, Mazzy Star and Portishead. The chorus and the title are sung in French and that may lead to references like Serge Gainsbourg and Melody's Echo Chamber but the truth is that Isabel lived in France for a while and she wanted to mix French with English on this song. That's not new to Macintushie as if you go back to "Stillwitchu", the song "Talk 'bout" mixes Portuguese and English.
"It's hard to say what kind of music we're making. We are influenced by a lot of things and don't think too much about sounding like something. For this new track, I freed myself to put some trap beats that Black Eyed Peas and Ke$ha used on their 90s tracks, and also a little synth-rock that I associate to Julian Casablancas and Frabin", explains Baapz.
Listen and download on Bandcamp
Spotify
"Vicky Avait Raison"
out 13th of August, 2021 (midsummer madness / mixirica)
Produced, mixed and mastered by Pedro Baapz at his home studio Mixirica Recs in Juiz de Fora, MG between 2020 and 2021
Lyrics: Isabel Oliveira
Synthesized Instruments (Bass, Synths, drum machine, orchestra): Pedro Baapz
Guitars: Ruan Lustosa
Cover: Ana Gouveia