Loomer and alienation by noise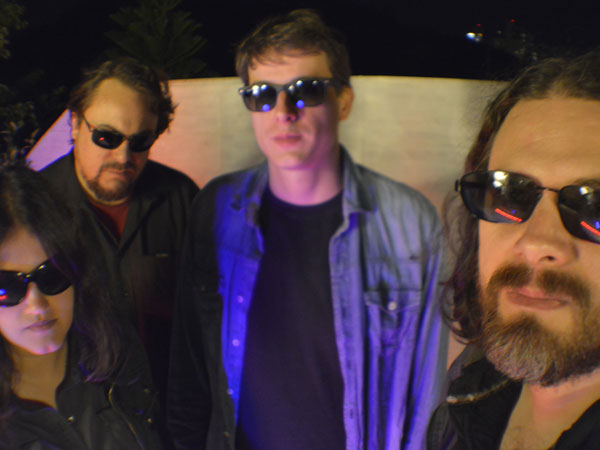 In an interview with Simon Reynolds for Melody Maker in the early 1990′s, Robert Hampson, lead guitar and voice of British group  Loop said that his intention was to produce an uncomfortable music that would be heard with your bowels. And if possible, he would love to lock the audience in a room and subjugate it to the hypnosis of his guitars for hours, only to observe the consequences.
Well, musicians in Brazilian quartet Loomer do not have such sadistic wishes. But the music they've been producing since 2008 forces you to pay attention with your bowels, albeit involuntarily. It bothers those who do not like guitars in loud volumes and snatches those who spend days with flaming ears tucked inside loudspeakers. Instead of locking a crowd in a room and torturing, Loomer shouts in their ears: "Hey, sit! Now you're going to listen to us."
"Deserter" is their second album, follows "You Woudn't Anyway" (2013) and marks 4th recording if you count the EP "Mind Drops" (2009) and "Coward Soul" (2010). All released in partnership with Sinewave and midsummer madness, forged in DIY punk aesthetics, burned out with abrasive guitars in a 90′s-teen-party atmosphere.
"Deserter" was recorded at Dissenso Studios (in Sao Paulo) and Dub (RS), produced, mixed and mastered by guitarist and vocalist Stefano Fell. Which reminded me of Jim Reid speaking to Brazilian music magazine Bizz, back in the '80s. Jim said about his older brother William. "He knows how to use the guitar the wrong way."
Loomer knows too. And that's a big compliment.
This is what Loomer's heroes do best – My Bloody Valentine, Dinosaur Jr, Jesus and Mary Chain, Velvet Underground – destroy the image created around the instrument to rebuild it with other possibilities, other sounds, other pulsations.
(text by Filipe Albuquerque)
"Deserter" was released only in digital format.
Listen, download, buy

Spotify – here