Devilish Dear's new music video and EP out now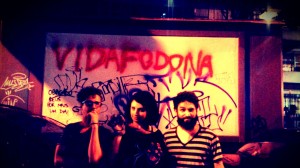 It's been almost 3 and a half years since "These Sunny Days" was released by the band itself on their Bandcamp page. Later, in January 2017, when the unpretentious debut album was relaunched via midsummer madness, something unusual happened: Bandcamp's Editorial writers fell in love with the album.
Why the album wasn't noticed before, no one knows.
Fact is that the quote from the Editorial team of Bandcamp sparked a snowball of interest in the band that resulted in a few dozen downloads on midsummer madness' Bandcamp. After that, "These Sunny Days" won several accolades from gringo blogs and was listed in some best of 2017 lists.
The unexpected interest brought new responsibilities to Bráulio , Shelly and Romulo. "These Sunny Days" was the result of nearly 10 years of procrastination and creation (read about it here). Recording new songs seemed like a challenge.
During 2017 and 2018, several sketches of the 2nd album were made. "Process is very chaotic, explains Bráulio, "It's me cutting and pasting bits and pieces of everything I hear. After months listening to those little Frankensteins, if it's not disregarded, I start to work on it as a track ."
In addition to this slow creation process, Devilish Dear's routine is not of a normal band. Bráulio always said that the band is a hobby: "We write songs just for the sound of it, the aesthetics. We never played a gig and this is an impediment. If people continue listening, it's really rewarding. "
"Appalish" EP started taking shape after 2018′s New Year. "Glass React" was half-ready for quite some time when "Appalish" was recorded. Then, they decided to deliver something new before oblivion hits.
"Glass React" and "Appalish" will be on Devilish Dear's 2nd album, almost ready but still untitled and without a release date.
"Glass React" also has a music video where the song version is a little different from the versio one on the EP:
Listen to "Appalish" on mmrecords, here
Listen, buy or download the EP in high resolution on Bandcamp, here
Spotify
Apple Music
Deezer